Employer Body entry

Australian Higher Education Industrial Association (1990 - )

AHEIA
From

1990

Functions

Employer (Peak Body)

Website

Reference No

280V
Summary
The Australian Higher Education Industrial Association [AHEIA] represents the interests of universities and other institutions operating in the higher education sector. It is registered as an employer organisation under the Workplace Relations Act 1996 (Commonwealth).
The Australian Higher Education Industrial Association (AHEIA) was established on 2nd January 1990 as an amalgam of two older organisations: the Australian Universities Industrial Association and the Australian Advanced Education Industrial Association, both of which were formed during the mid-to-late 1980s. Following the turbulence of the Dawkins reforms in the late 1980s, during which time many universities and colleges amalgamated, it was felt that a new, united employer body was needed to best represent the interests of the institutions constructed from the old system.
AHEIA is responsible for protecting the industrial relations interest of its members at State and Federal levels. It advises members on award and general industrial matters and represents them, on either an individual or collective basis, before industrial tribunals and internal disciplinary and appeal committees. In addition, AHEIA formulates policies in consultation with its members and negotiates with industrial unions, such as the National Tertiary Education Industry Union, in accordance with such policies.
Published resources
Online Resources
Digital resources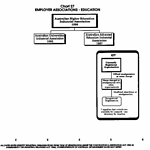 Title

Chart 27: Employer Associations - Education

Type

Image
Bruce A. Smith
Created: 20 April 2001, Last modified: 6 August 2010