Trade Union entry

Australian Transport Officers Federation (1978 - 1991)
From

1978

To

1991

Functions

Trade Union (Federal)

Reference No

137V
Summary
The Australian Transport Officers' Federation [ATOF] began as the Railway and Tramway Officers' Association registered in New South Wales in 1913 and believed to be the first registration of an organisation of salaried railway and tramway employees in Australia.
In 1924 that organisation amalgamated with the first federally registered organisation of salaried officers, the Victorian Railways Administrative Officers' and Clerks' Association which was formed in 1921. The name of the amalgamated union was the Federation of Salaried Officers of Railways Commissioners.
In 1947 the name was changed to the more familiar name of the Australasian Transport Officers' Federation and in 1978 it changed its name once more to the Australian Transport Officers' Federation.
By 1991 the union had merged with the Technical Service Guild of Australia and the Municipal Officers' Association of Australia to form the Australian Municipal Transport Energy Water Ports Community & Information Services Union. Further amalgamations in 1992 and 1993, although not causing a change of name for the union, did require it reregistering on both occasions. Another amalgamation later in 1993, this time with the Federated Clerks' Union and the Federated Municipal & Shire Council Employees' Union, formed the Australian Municipal Administrative Clerical & Services Union. Following an amalgamation with the Totalisator Employees' Association of Victoria this union was reregistered in 1994.
Archival resources
The Noel Butlin Archives Centre, ANU Archives Program
State Library of South Australia, Mortlock Library of South Australiana
The University of Melbourne Archives
Published resources
Online Resources
Digital resources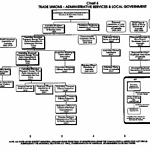 Title

Chart 6: Trade Unions - Administrative Services and Local Government

Type

Image
Bruce A. Smith
Created: 20 April 2001, Last modified: 6 August 2010