Employer Body entry

Queensland Employers Federation (1890 - 1976)
From

1890

To

1976

Functions

Employer (Peak Body)

Reference No

Unregistered
Summary
By the 1880s, nationally coordinated, organised labour unions became a major influence in Australia, and Queensland employers recognised a need to counterbalance the power and influence of these trade unions by forming the Queensland Employers´ Federation [QEF] in 1886.
The QEF continued to represent its constituency until the mid 1970s, when the end of the long post-war boom and the confluence of a number of other national and international economic influences led the Queensland Chamber of Manufactures, the Queensland Employers´ Federation, the North Queensland and Central Queensland Employers´ Associations and the Mackay Employers´ Federation to merge in 1976 to form the Queensland Confederation of Industry [QCI].
QCI merged with the State Chamber of Commerce & Industry (Queensland) and the Toowoomba Chamber of Commerce in 1994 to form the Queensland Chamber of Commerce and Industry Ltd [QCCI]. In April 2001, QCCI re-launched itself as Commerce Queensland.
Published resources
Journal Articles
Blackmur, Douglas, 'Arbitration, Legislation and Industrial Peace: Queensland in the Reconstruction Years', Labour History, vol. 63, 1992, pp. 115-134. Details
Online Resources
Digital resources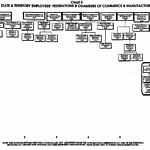 Title

Chart 5: State and Territory Employers' Federations and Chambers of Commerce and Manufactures

Type

Image
Bruce A. Smith
Created: 20 April 2001, Last modified: 6 August 2010