Welcome to the Australian Trade Union Archives
A gateway for researchers and scholars of labour history
Search
About ATUA
Australian Trade Union Archives (ATUA) is a gateway for researchers and scholars of labour history, linking together historical detail, archival resources, published material and information about Australian industrial organisations, mainly including trade unions and also employer bodies.
Parties to the Award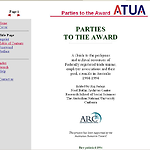 A Guide to the pedigrees and archival resources of Federally registered trade unions, employer associations and their peak councils in Australia 1904-1994.
Timeline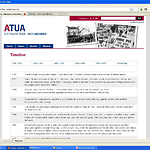 A timeline relating to labour history in Australia 1788-2001.