Trade Union entry

Actors Equity of Australia (ii) (1982 - 1993)
From

1982

To

1993

Functions

Trade Union (Federal)

Reference No

129V
Summary
An Actors' Association existed in Australia during the early 1910s. Although this Association was registered in July 1919 as the Actors' Federation of Australasia, members quickly lost confidence in it, forcing its deregistration just two months later, in September 1919.
On 6 March 1920 a new union, again named the Actors' Federation of Australasia was registered under the Conciliation and Arbitration Act. It was renamed Actors' Equity of Australia on 25 February 1936. The union, however, was ineffective and had close links with its supposed adversaries, the Theatre Proprietors and Managers' Association of Australasia. In 1939 Management of Equity was taken over by Hal Alexander and other trade union activists.
On 5 May 1945 the union's name was changed once more, this time to Actors and Announcers' Equity of Australia and was largely due to the inclusion of members from the recently defunct Announcers' Association of Australia. A closed shop ruling was announced in 1949, with members prohibited from working with non-members. Taking the often-casual nature of a performer's employment into account, members were only required to be financial when in work.
Almost since its inception the union was based and most active in Sydney. In 1980 Equity underwent major structural changes with NSW ceasing to be 'The Council State.' A Federal Council was set up in order to be more representative of Equity members around Australia, together with a NSW Division similar to the other state Divisional Committees and Executives. On 14 July 1982 the union assumed its previous title, Actors' Equity of Australia. An unsuccessful attempt was made in 1983 to establish a breakaway union.
In 1993 the Actors Equity of Australia amalgamated with the Australian Theatrical & Amusement Employees' Association and the Australian Journalists' Association to form the Media Entertainment & Arts Alliance.
Archival resources
The Noel Butlin Archives Centre, ANU Archives Program
The University of Melbourne Archives
Actors' Equity of Australia, Victorian Division - Records, 1943 - 1984, 1984.0044; The University of Melbourne Archives. Details
Published resources
Online Resources
Digital resources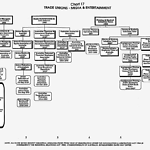 Title

Chart 17: Trade Unions - Media and Entertainment

Type

Image
Bruce A. Smith
Created: 20 April 2001, Last modified: 6 August 2010