Trade Union entry

External Plant Officers Association (1980 - 1991)
From

1980

To

1991

Functions

Trade Union (Federal)

Reference No

117V
Summary
The Line Inspectors' Association Australia [LIA] was established in 1916 and registered under the Commonwealth Conciliation and Arbitration Act in May 1918. It was renamed the External Plant Officers Association [EPOA] in February 1980.
In 1960 the LIA consisted of employees engaged in the Postmaster General's Department of Civil Aviation as line inspectors, inspectors, technical officers and senior technical officers. In 1979, preceding change of name, the LIA consisted of employees engaged by the Australian Telecommunications Commission as senior line officers, principal line officers, external plant managers, technical officers, senior technical officers and principal technical officers. The name change in 1980 caused no other change in the rules. The new title, External Plant Officers' Association (EPOA), was introduced merely to define clearly the area in which the Association's members worked.
In August 1991 the EPOA amalgamated with the Telecommunications Technical Officers' Association [TTOA] to form the Telecommunications Officers' Association [TOA]. The TOA then amalgamated with the Communication Workers' Union of Australia [CWU] in November 1992, becoming the TOA Branch of the CWU.
In August 1994 the CWU amalgamated with the Electrical Electronic Plumbing & Allied Workers Union of Australia to form the Communication Electrical Electronic Energy Information Postal Plumbing & Allied Services Union of Australia [CEPU].
Archival resources
The Noel Butlin Archives Centre, ANU Archives Program
External Plant Officers Association - Records, 1946 - 1988, N116;

Z439(pt)

; The Noel Butlin Archives Centre, ANU Archives Program. Details
Published resources
Online Resources
Digital resources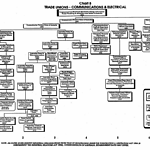 Title

Chart 8: Trade Unions - Communications and Electrical

Type

Image
Bruce A. Smith
Created: 20 April 2001, Last modified: 6 August 2010