Employer Body entry

Professional Photographers Association of Australia (1970 - )
From

1970

Functions

Employer (Peak Body)

Website

Reference No

113N
Summary
The Association was originally formed in Sydney in 1912 by a group of professionals working in the then new profession of "photography".
On the 14th May, 1920 the Professional Photographers Association of New South Wales was registered. At that time, members included Freemans, Sydney Riley, Monte Luke and many others.
Later, it was evident that the membership was becoming more widespread and extending beyond the state of New South Wales. The Association then applied to the National Concillation and Arbitration Commission for a change of name and national registration. This was granted in 1970 and the name was changed to the present 'Professional Photographers Association of Australia'.
Published resources
Online Resources
Digital resources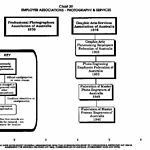 Title

Chart 39: Employer Associations - Photography and Services

Type

Image
Bruce A. Smith
Created: 20 April 2001, Last modified: 6 August 2010