Biographical entry

Spence, William Guthrie (1846 - 1926)
Born

1846
Orkney Islands, Scotland

Died

1926

Occupation

Trade Union - Official and Politician - Federal - MHR
Summary
Born in 1846 in a village in the Orkney Islands, Scotland, William Spence came to Australia with his father hoping to find gold on the Ballarat goldfields in 1853. As a miner, Spence held several minor posts in the union until eventually being elected Secretary of the Amalgamated Miners' Association of Victoria [AMA] in 1882.
A firm believer in union strength through amalgamations, Spence moved at the Inter-Colonial Trades Union Conference of 1884 that each trade "be recommended to amalgamate the several unions of the same trade under one head or governing body". This was thirty years before the 'One Big Union' movement gained momentum.
In 1886, Spence became foundation president of the Amalgamated Shearers' Union of Australasia and guided the union through the turbulent industrial disputes in many of Australia's shearing sheds, particularly those in Queensland that became so prevalent in the early 1890s.
By 1892, Spence had broken his ties with the Amalgamated Miners' Association in Victoria and went on to help combine several small bush unions with the Amalgamated Shearers' Union to form, in 1894, the Australian Workers' Union. Spence assumed the office of Secretary and four years later, President.
In 1898, Spence was elected Federal Member for Darling but retained his office with the Australian Workers' Union. It wasn't until 1916, when he became embroiled in the conscription debate of that year, that he tendered his resignation. Spence died on 13 December 1926 and is buried in Coburg Cemetery.
Archival resources
State Library of Victoria, Australian Manuscripts Collection
Published resources
Books
Journal Articles
Online Resources
See also
Digital resources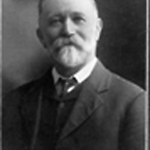 Title

W.G. Spence

Type

Image

Source

Photograph appearing in W.G. Spence, "Australia's Awakening", The Worker Trustees, Australia, 1909.
Ross G. Elford
Created: 3 October 2001, Last modified: 19 November 2001