Trade Union entry

Federated Seamens Union of Australasia (1906 - 1925)
From

1906

To

1925

Functions

Trade Union (Federal)

Reference No

Deregistered [was 012V]
Summary
Formed in 1876 by the amalgamation of the Sydney Seamen's Union and the Melbourne Seamen's Union, the Federated Seamen's Union of Australasia was registered under the Commonwealth's industrial relations legislation in 1906.
On 5 June 1925, Deputy President Webb deregistered the Union for continuous disobedience to the arbitration laws and repeated interruption of shipping services. For the next decade, the union as a federal body had no legal power to enforce its rules and collect from members.
Many of its members went on to form the Seamen's Union of Australasia in 1930, which became the Seamen's Union of Australia in 1943. Despite amalgamations with the Marine Cooks' Bakers' & Butchers' Association of Australia in 1983, the Federated Marine Stewards' & Pantrymens' Association of Australasia in 1988 and the Professional Divers' Association in 1991, it remained the Seamen's Union of Australia until 1991 when it amalgamated with the Waterside Workers' Federation to form the Maritime Union of Australia.
Archival resources
James Cook University of North Queensland, Library Archives
John Oxley Library, Manuscripts and Business Records Collection, State Library of Queensland
JS Battye Library of West Australian History, State Library of Western Australia
National Library of Australia Manuscript Collection
The Noel Butlin Archives Centre, ANU Archives Program
State Library of Victoria, Australian Manuscripts Collection
The University of Melbourne Archives
Published resources
Books
Fitzpatrick, Brian and Cahill, Rowan J., Seamen's Union of Australia, 1872-1972: A History, Seamens' Union of Australia, Sydney, 1981, 363 pp. Details
Journal Articles
Morris, Richard, 'Mr Justice Higgins Scuppered: The 1919 Seamen's Strike', Labour History, vol. 37, Australian Society for the Study of Labour History, Sydney, 1979, pp. 52-62. Details
Online Resources
Digital resources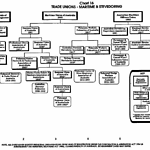 Title

Chart 16: Trade Unions - Maritime and Stevedoring

Type

Image
Bruce A. Smith
Created: 20 April 2001, Last modified: 6 August 2010