Employer Body entry

Melbourne Chamber of Commerce (1851 - 1987)

MCC
From

1851

To

1987

Functions

Employer (Peak Body)

Reference No

Unregistered
Summary
The Melbourne Chamber of Commerce [MCC], Victoria's first employer organisation, was formed when a resolution was adopted in the Counting House of Octavius Brown on 12 March 1851. The initial members - accountants, bankers, financiers, merchants, importers, lawyers, ship owners and agents, manufacturers and stock, share and product brokers - elected William Westgarth as the MCC's first President.
The Chamber aimed to develop Melbourne into one of the world's greatest free ports. Surveying the Victorian coastline, establishing a pilot service in Port Phillip Bay and building a lighthouse were noteworthy beginnings. In 1866, the MCC petitioned Queen Victoria over the Government collecting customs duties without Parliament's authority - an act sparked a constitutional crisis. The result was the early recall of Governor Charles Darling. In the 1870s Victoria was expanding rapidly and the MCC was progressing with the colony. In 1876 the MCC campaigned to achieve the establishment of a Harbour Trust and a Marine Board. Both have continued to function to this day, and the value of their work to the commercial community is incalculable.
The MCC was one of the earliest voices raised in support of federation. As early as 1869, it advocated a federation of tariff for the Australian States, and continued to press for unified commercial relations right up to federation in 1901.
The MCC was quick to recognise that federation would make commerce a national, rather than a State matter. Chambers of Commerce from all the Australian States accepted the MCC's invitation to a meeting in its boardroom in 1901 - and the result was the establishment of the General Council of the Chambers of Commerce of the Commonwealth. This was the body from which the present-day Australian Chamber of Commerce and Industry grew.
In October 1986, the Melbourne Chamber of Commerce changed its name to the State Chamber of Commerce and Industry (Victoria) and then in 1991 enacted a further change of name to the Victorian Employers' Chamber of Commerce & Industry as a result of a merger with the Victorian Employers' Federation.
Archival resources
Royal Historical Society of Victoria Inc
Benjamin Cowderoy Illuminated Addresses, 1889 - 1902, MS 13777 & MS 000733; SN 39-40; Royal Historical Society of Victoria Inc. Details
State Library of Victoria, Australian Manuscripts Collection
Melbourne Chamber of Commerce - Circular notices to members, 1970-1972, 1970 - 1972, MS

13937

; State Library of Victoria, Australian Manuscripts Collection. Details
Published resources
Journal Articles
Chan, K., 'Origins of Compulsion in Australia: case of Victoria, 1888-1894', Journal of Industrial Relations, vol. 13, no. 2, 1971, pp. 155-163. Details
Online Resources
Digital resources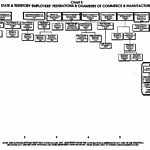 Title

Chart 5: State and Territory Employers' Federations and Chambers of Commerce and Manufactures

Type

Image
Bruce A. Smith
Created: 20 April 2001, Last modified: 6 August 2010